2016 marked my 10th year as a board-certified music therapist. In keeping with the requirements of the MT-BC credential, this means I had to renew my certification this year. Every five years, music therapists must complete at least 100 hours of continuing education. I ended up having FAR beyond that during this five-year cycle. I know music therapists are often trying to get ideas for continuing education credits, so I thought I would share my continuing education activities from the past five years and how they contributed to my recertification requirement.
Graduate Coursework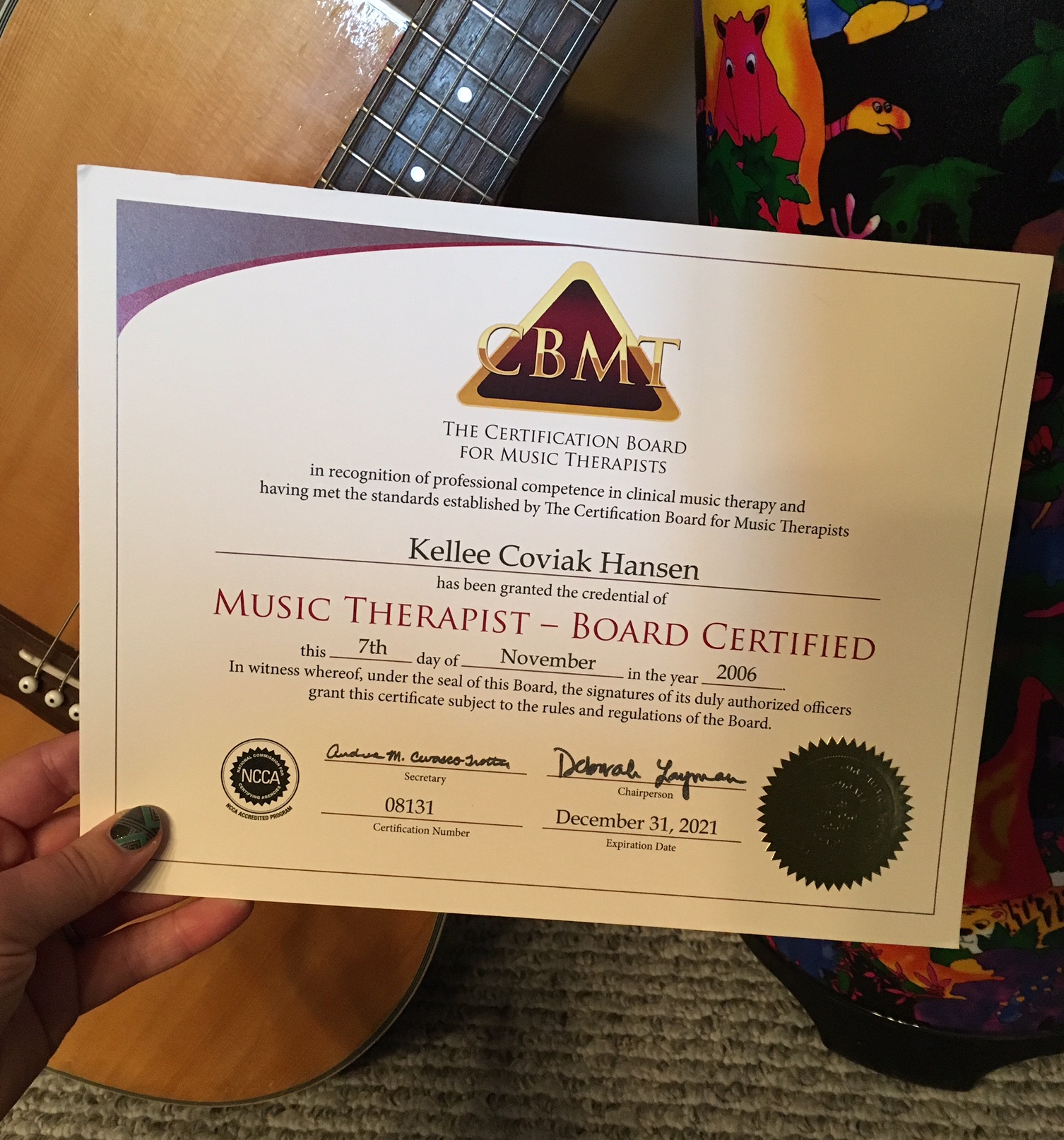 I completed my master's degree in Special Education from January 2013-December 2015.  Consequently, I had enough credits to renew my certification with my graduate courses alone.  Ultimately, I had 614 credit hours of graduate coursework, 100 hours of which could be used towards my certification.
Music Therapy Conferences
Music therapists earn 5 CMTE – Continuing Music Therapy Education – credits for attending a national or regional conference.  I earned 30 credits for my conference attendance during these five years; 15 of which could be counted towards my recertification.
Educational Courses
There are opportunities to earn additional CMTEs at conferences through participation in workshops of 3 hours or more.  Many state organizations (e.g. Michigan Music Therapists) offer workshops throughout the year and some music therapy practices and/or agencies offer courses, as well.  It is now also possible to take CMTE courses online and/or via self-study through a number of approved course providers, including courses available for AMTA members on the AMTA website, Music Therapy Ed, and Music Works Publications.  I earned a total of 112 credits in this category; a maximum of 100 could be counted towards my recertification.
Professional Development
Preparing and presenting professional experiences for others is included under the Professional Development category.  During this five-year cycle, I presented seven different sessions for conferences and/or workshops. (Note: Some presentations were repeated, but they can only be counted for credits the first time that topic is presented.)  I earned 80 credits for my professional presentation activities, which is also the maximum number that could be counted towards recertification.
Professional Service
Finally, I earned continuing education for my professional service. This included serving on the executive board of Michigan Music Therapists, serving on the Michigan Task Force, and serving on a committee when Michigan hosted the GLR conference in 2012.  Honestly, I have no idea how many hours I have dedicated to these endeavors, but it is far beyond the maximum 20 hours which are allowed towards recertification!
For additional information about music therapy certification/recertification, visit the CBMT website.  I highly recommend familiarizing yourself with the Recertification Manual early in your cycle, so you do not find yourself scrambling for credits during the last few months/weeks!