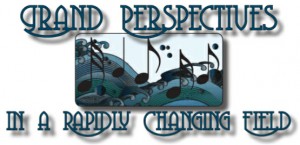 About a year ago, I signed on for one of the biggest learning experiences of my professional life, thus far: I agreed to be the Program Chair for the 2012 Conference for the Great Lakes Region of the American Music Therapy Association.  The conference was held this weekend in Grand Rapids, MI (my hometown) with the theme of Grand Perspectives in a Rapidly Changing Field.
My role as the Program Chair was to plan and coordinate all of the concurrent sessions, the CMTE/Institute offerings, the opening & plenary sessions, and to produce the actual, paper program provided to conference registrants.  I've lost track of the number of hours I put into this volunteer position, but I know the lessons learned about event planning, committee collaboration, coordinating many people from a distance, and seeing all the amazing things music therapists are doing throughout the Great Lakes Region have greatly strengthened me as a professional music therapist.  I was priviledge to work alongside some AMAZING Conference Co-Chairs and other planning committee chairs and, though I haven't relaxed much the past few months, I am so grateful for this experience.
Additionally, I was part of the program, as I completed my very first professional conference presentation yesterday.  Two colleagues from Heartwood School joined me to present on how we collaborate and integrate the M.O.V.E. curriculum throughout our school and, particularly, within music therapy.  Our presentation was very well received and we have already been asked about presenting at some other center-based schools here in Michigan.
I have quite the mix of emotions this morning.  On the one hand, I am relieved to be done with my duties and to have more time to focus on building and improving CODA MTS, as well as to devote to my personal life.  However, at the same time, I am experiencing a loss and I am sad that this experience has ended.  Regardless, I can't wait to see all my music therapy colleagues again for our national conference in Chicago in October and/or the 2013 GLR conference in Columbus, OH!
Related Posts:
Keeping My Credentials
There's So Much to be Thankful For